Tomorrow is a big day. Final projects are due in both of my classes. I just finished my last paper and sent it to my partner to check. And now, I am blogging to help myself process the anxiety in my head.
It has been an unbelievably hectic time for me. I feel like Christmas is whirling on around me while I watch. I did manage to go to the Travel Town Santa Train with Marc and the kids and my parents this weekend, which was very fun, but other holiday type stuff is just passing me by. I don't think I have ever been so passive about the holidays before in my life, even the year I was a junior in college during my first trimester with of my pregnancy with Vinny. (I am not sure how I managed to get through that month at all. I was a leading role in a Christmas play during finals week- and I was taking a full course load of 15 units, plus working 30 hours a week, while terribly "morning" sick 24 hours a day).
This is the infamous Christmas "bush"
It lead to me insisting on coming on the tree shopping trip each year
We got our tree last night, since I didn't see when we would get it otherwise, and I really like to have a say in the tree. That year I was pregnant with Vinny, I let Marc go get a tree, a small one that would fit on an end table, and I made many jokes about how ugly it was. I called it our Christmas bush.
Anyhow, so we got our tree, and while I frantically graded essay revisions (I am completely caught up on these now, which is a wonderful feeling), Marc put on the lights. All of our ornaments are sentimental, since they are all keepsakes that Marc's grandma bought him, my mom bought me, or we bought the kids. Each has the year, and each has memories, and I usually very much so enjoy the process of putting them up and thinking about the people they represent- people like my sweet first grade teacher who made me a hand-painted ornament the year I turned 6, and Marc's grandma- who was an amazing woman and Marc's best friend. She passed away 4 months before Vinny was born.
Vinny's decorating prowess
But this year... I just don't have it in me. I wouldn't enjoy the process, so I was glad that Vinny enjoyed doing it with my mom. She let him get on a chair and decorate the top of the entertainment center all by himself. It is basically a pile of garland mixed with decorations, but he is very proud of it, and we are NOT allowed to touch it.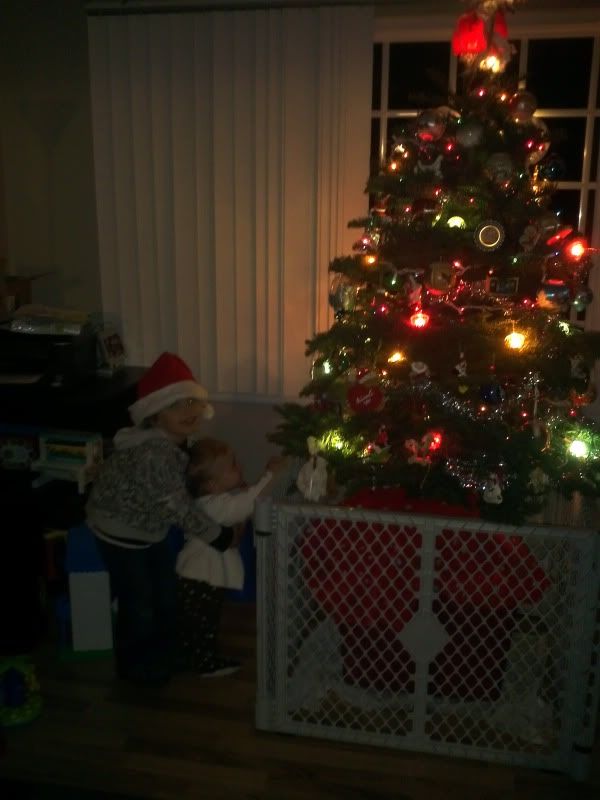 The tree turned out very nice, even if my mom did add a strand of white corded lights on it (Come on Mom... white cords for white walls, green cords for the tree). Baby proofing it worked out relatively well. We opted not to use the entire superyard, so it wouldn't be so obtrusive, which means Tiana can still get relatively close to the tree, but no breakable ornaments are at the bottom and she loves being close to it, so I think it is okay. Besides... Vinny is SO protective of the tree, he sounds the Tiana alarm any time she reaches for anything, yelling, "NO!!!" It looks pretty good, for all its baby-proofed awkwardness.
Vinny is rather particular about things this Christmas. I let him help me design our Christmas card online. I normally have these done and mailed by now, but the thought hadn't even crossed my mind until other family members started asking me for other family members addresses. (Sorry that I replied to no one, I have not had a chance to dig up the address book, so I imagine you coped without me). I realized that I would end up paying ridiculous prices for same day service if I didn't order soon, so I ordered them online tonight. Vinny and I decided on pictures from our Hawaiian vacation and decided we didn't like any of the ones of the whole family, so we ended up with a collage card. We had many arguments about which ones would make the cut. I wanted the cutest ones, but of course my class clown wanted the ones where he looks "funny." We compromised. There is one cute one of him and Tiana, and one funny one of me and him. We agreed on the one of Marc and Tiana, since I think it is adorable and he thinks it is hilarious. When did my son get so darn opinionated?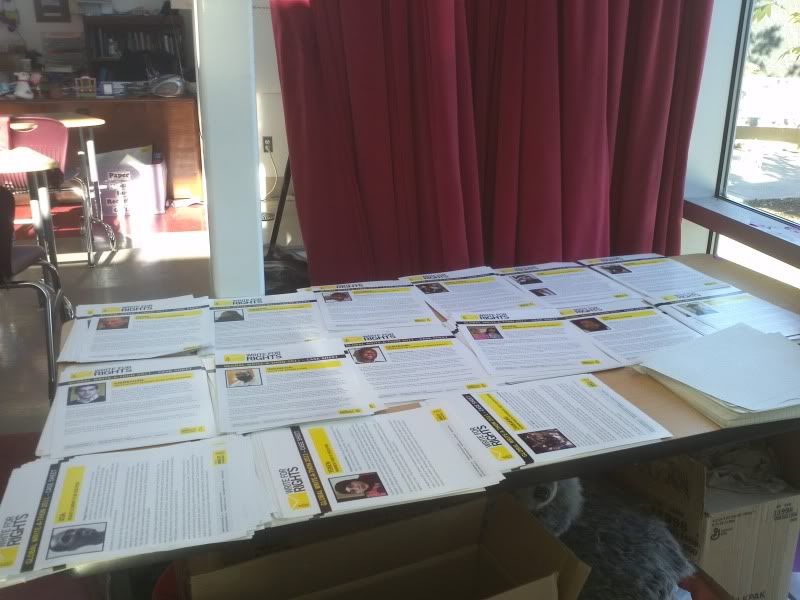 Tomorrow is Vinny's big Christmas performance at school, and he is very, very, very excited. My little performer could not be more excited to be getting to sing "Christmas in Hawaii," given our recent vacation and his current obsession with Hawaii. His teacher told them to dress in festive colors, and he is insisting on wearing the red Hawaiian shirt he got in Maui, since it is both red and fits his favorite song. Sadly, I will be missing this performance. My eyes are tearing up just thinking about this. Although I have worked full time since Vinny was 2, I don't usually miss this stuff. I even took off during finals and had a PE teacher cover my final exam when Vinny's preschool class did a performance when he was only 2 years old. I take off work for all of the important stuff, but when I saw the date of his performance, my heart sank. This week is Amnesty International's Write for Rights Write-a-Thon campaign, and my students' Write-a-Thon is today and tomorrow (different classes each day- we have block schedule). I cannot miss this. It is extremely important I am there and extremely important to my students, and I genuinely believe in what we are doing. So... I will be missing "Christmas in Hawaii." My mom, my dad, and Marc are all going. I hope they are able to get a semi-decent video.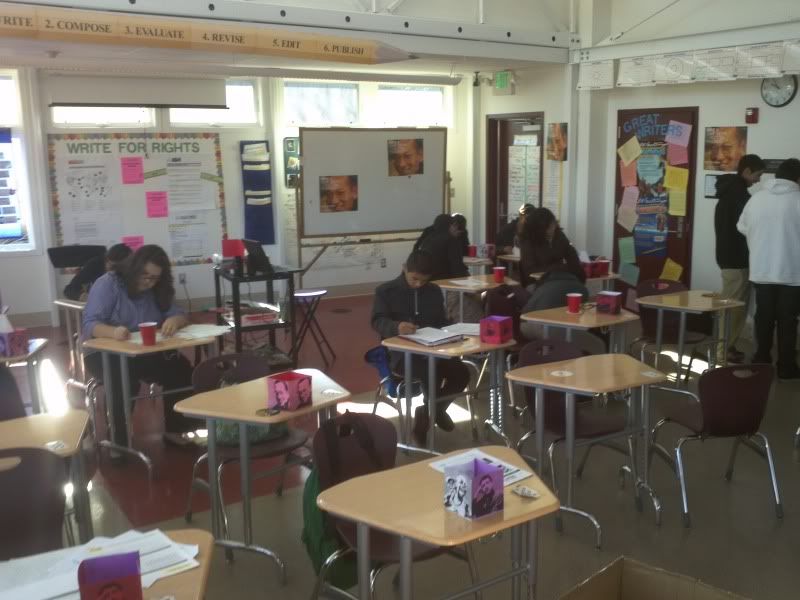 I am glad that Christmas break comes relatively early this year so that I can have some time to enjoy the season without school on my mind. And... hopefully help my best friend move into her new house too!
Sigh.... 7 more alarm clocks until Christmas break.