I have so much to do, so of course what am I going to do first.... blog.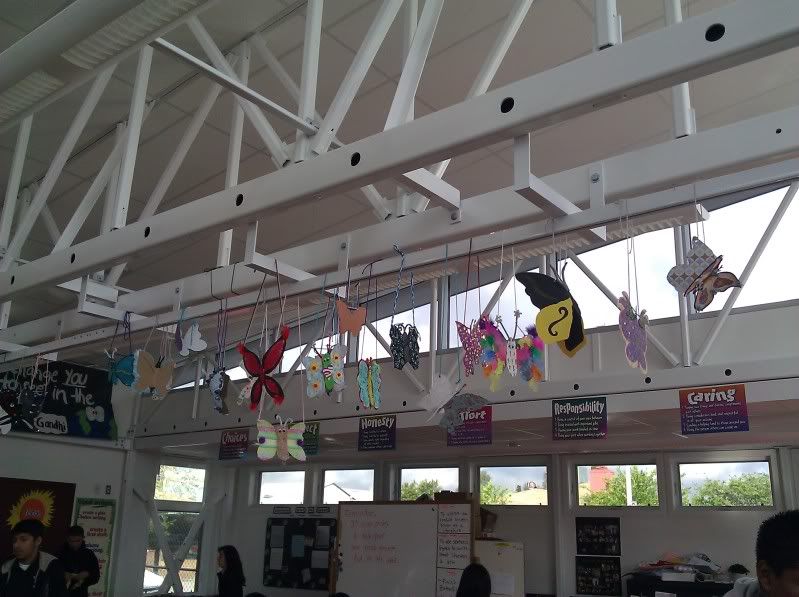 This has been an emotional unit for me at school. The students created butterflies to send to the Holocaust Museum of Houston for their Butterfly Project. The Museum is collecting 1.5 million handmade butterflies to represent the 1.5 million children that died in the Holocaust. My students made butterflies that each reflect a child poet from the book
I Never Saw Another Butterfly
, which is a compilation of poems written by young Holocaust victims.
They put so much work into these butterflies. They poured their souls into these butterflies. I had students who never seem to care about anything in my room at nutrition and lunch. I had a student who I don't have until after lunch come in during nutrition and lunch, because he heard about the project and wanted to get started. They worked on them at home; they dragged their friends over to see them. One student asked me with great concern, "What if my butterfly isn't what my child was really like at all? What if he sees it and thinks I got it wrong?" Her comment, with such great concern to do justice for this precious child, touched my heart.
They do not know yet that the second part of this project involves cutting down the butterflies of the children who died. Considering that only 100 of the 15,000 children at the Terezin camp survived, this means most of their butterflies will "die" tomorrow. It is going to be an emotional day.
During my Honors class today, I showed them a video of my family's trip to the Holocaust Memorial in Miami because they are entering an essay contest to win a trip to the memorial. In the video, my son looks at a statue of a young child and asks, "Why is he crying, Mommy?"
I could feel that the entire class felt the awful painful irony of that question. Their eyes were full of tears. Immediately after this, one of the seniors on campus stopped by my class to invite my students to participate in the Walk to End Genocide on April 10th. When he ended his presentation and asked who would like a registration form, nearly every hand in the room shot up.
I.... am.... emotionally.... drained.
The salary I make might be small, but do you know what I really make?
I make a difference.