Hello Readers! Guest blogger today! Marc wanted to write our vaca-update today. So here goes...
Once again, our second day of Hawaii stated off with a very early morning. Tiana got me (Marc) up at 4:30am, and by 5am she had both Niki and I awake, ready to enjoy the good life of Hawaii. Since I was up early anyway, I decided to take advantage of early morning swimming at Kihei Aquatic Center. In fact, I was so excited, I forgot my towel. I ended up drying off with paper towels. The drive was amazing. Great views everywhere in Maui, Hawaii. Kihei is about 5 miles from our condo, but it takes a good 20-25 minutes to get there, since everyone here is on "Hawaiian Time," and I am not talking about the time zone.
When I arrived home, we quickly packed up lunch for the day and got the kids ready to go to Ka'anapali to go parasailing. We claimed a shady spot on the beach (which was great, since the sand was way hot today) and I signed in to go parasailing first. Vinny was planning on watching me parasail from the boat, but as we were loading to go in a small speed raft to the parasailing boat he got scared and backed out. Too bad, since he would have enjoyed the boat ride.
Now, I must admit, I was a little scared at first, watching people from the boat being pulled 1,200 feet in the air. Crazy... but I managed to finally go, and I was pumped. I brought along the waterproof camcorder/camera and took pictures as I was parasailing. Maui is a whole lot different from way up in the air. What a great experience.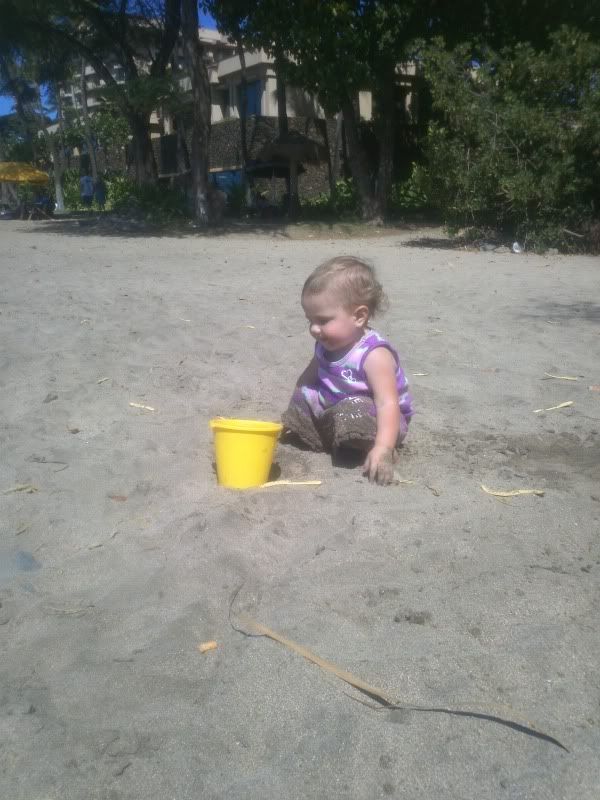 Tiana caking herself in sand.
Meanwhile Niki, Vinny, and Tiana enjoyed the beach while I went parasailing. Not the best beach ever, but it was convenient.
After, Niki got to go, and she ended up having to go with an older man (who was planning on flying solo) because she is so light and skinny. (Okay, I have to jump in here- perhaps the best compliment I have ever received was when the parasailing guy said he didn't think I would meet the minimum weight requirement for solo parasailing. He said I might end up upside down. He was probably wrong, but I was sort of happy for the company since I was a little scared).
As Niki was enjoying her time parasailing, I loaded the kids up in the car and took them for a drive, since Tiana was done being on the beach. As soon as I pulled out of the beach parking lot, Tiana fell asleep. Vinny and I drove and drove and discovered some neat beaches (and a MickeyDs drive thru). Vinny also discovered Angry Birds. Hahaha.
Maui from the air.
We arrived back at the condo around 3, where Vinny did some more school work, and then we went swimming. Niki headed back to the store for a few things (Tiana has eaten her way through an entire bag of grapes), while I took the kids to the beach in front of the condo.
Tonight, we cooked dinner. A delicious steak dinner (for about $20 for all three of us- couldn't get that in a restaurant). We cleaned up quickly to rush down the street to
Hula Cookies,
since they close at 6pm. We got there just in time. They were just closing up, but they let us in anyway. Oh man. Worth the rush. Delicious homemade ice cream sandwiches. The Kona mud pie ice cream was to die for. We may be returning before the trip is over (and she probably should not have told us that they ship the cookies anywhere in the world).
Vinny playing on the beach, waiting for Daddy to finish parasailing.
The kids fell asleep early again tonight, which means another early morning tomorrow, but that's okay, since we are hitting the road to Hana and have much to discover!