I feel like SO much has happened this week. As I wrote about in my last blog, I started graduate school. Certainly a milestone. But so many more milestones this week as well.
Monticello passed away. Monty was my cousins' father, and he had stomach cancer, so it was not unexpected. My parent's house has become home base for the out of town family, and this week has just been so chaotic, I feel bad for being able to provide really no support whatsoever.
Tiana started walking this week. She is not going fast, but she is walking. It started out as a "two steps then sit" deal, but today she actually took four before she realized what she was doing and froze. It is funny- she wants to, but it scares her. Kind of cute. She doesn't have the best balance ever, but it will get there. She is still a good two months ahead of Vinny. She has also starting talking up a storm. She has added the words "Uh oh" and "Oops" to her vocabulary this week.
She must be going through a growth spurt, because she eats more than Vinny. She wants to search through the fridge and cabinets all the time, and the day care is always asking us to send more food. Her tastes are rather strange- she mostly likes beans and olives.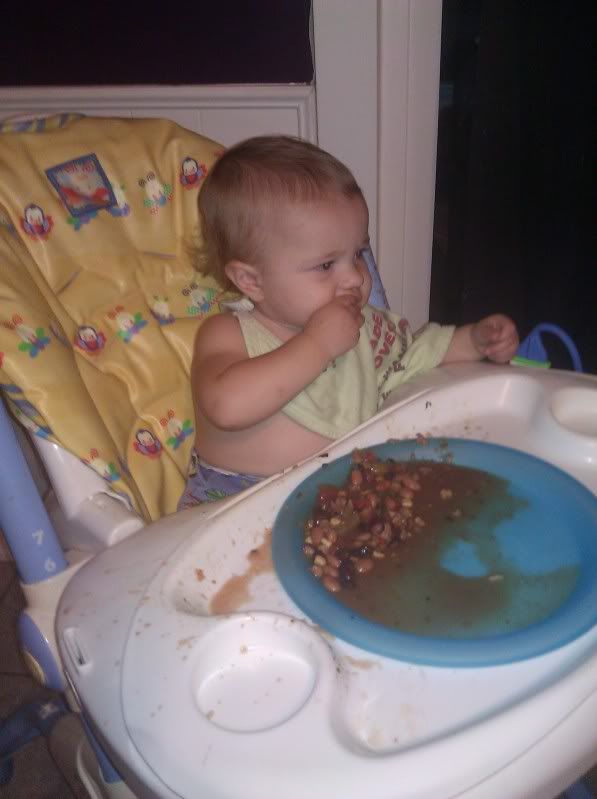 She is pretty much obsessed with her brother lately. He turned on music in his room and she just bolted in there, since dancing with him in his room is her absolute favorite pastime. When he plays with her, she laughs non-stop. She follows him around like a loyal puppy. He is overall very tolerant, but when he decides "She's bugging me!" it is never a pretty scene. He locked her in the living room (it is baby-gated off) and went into the kitchen to play with some of his toys, and she stood at the game, smushing her face between the bars, crying for him. Right now, they are listening to the Princess and the Frog soundtrack and dancing around the living room. Perhaps I should add that Vinny is singing along at the top of his lungs into an echo microphone. This is somewhat a rather fitting scene, considering that a year ago, Vinny insisted that we name his new sister after his favorite Disney princess.
Meanwhile, I had so much fun cooking with the CSA box last week that I am trying to figure out if it will fit into our budget to subscribe, and how often exactly it would fit into our budget. I believe that someday the world will decide organic farming is the only way to go and prices will come into perspective, but until then... I try to make it work on our tiny budget.
I had some awesome times with students this week (and some terribly infuriating times, but I am not in a venting mood, so I will save those). Monday was team-buillding day with drama, which is always a blast. I shall leave you with a picture of their "human cake."