This has really turned out to be a beautiful week and a beautiful weekend.
Vinny just loved VBS. He was sad for it to end and has been playing "VBS" ever since. He had a babysitter last night and made her play too. Her favorite part was when he made her "wait for [her] parents to come pick [her] up."
Friday was wonderful. While Vinny was at VBS, I went for a baby-mommy play date at a friend's house. Her eldest son is a little older than Vinny, and her youngest son is a little younger than Tiana. Her eldest son was at day camp that morning, so we got together with just the babies. We haven't done this (get together without the big kids) since I was on maternity leave with Tiana and my friend was 9 months pregnant.
It was wonderful. The babies played for a while and then both of them napped, and we got to catch up on conversation without hearing, "Mommy... Mommy.... Mommy..." every 10 seconds. If you are not a mom (or if it has been a while since you have had young children) you don't realize how difficult it is really have a conversation with another mom while your children are around. Babies not so much, but once your kids can talk, they really dominate your focus. I adore Vinny, and I love my friend's son too, but it was really nice to have the time to focus on the babies and then just chat, especially with such a wonderful friend with whom conversation flows so easily.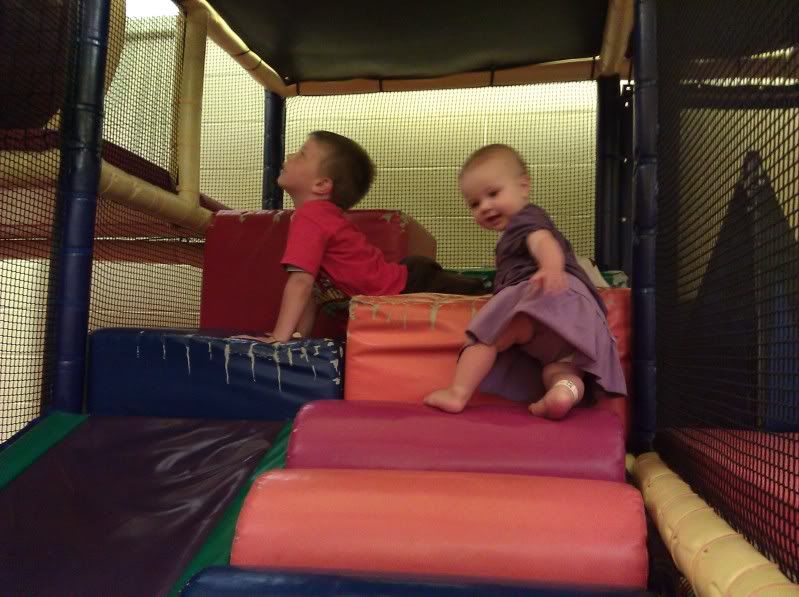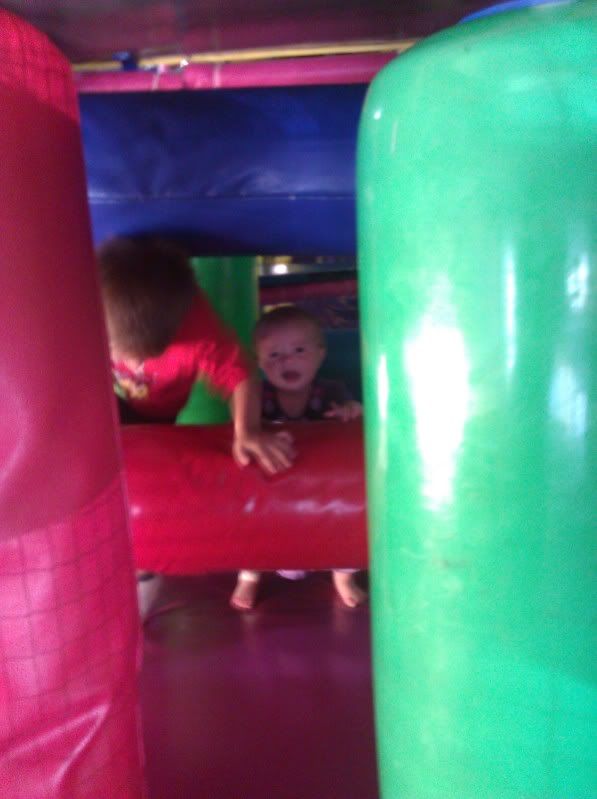 After that, I picked Vinny up from VBS and set out on a jam packed afternoon. We had stayed pretty much home and in town, doing chores and running errands, all this week, so I decided Friday could be an adventure day. We set out for an awesome indoor playground called Bright Child. If you have ever seen the movie "Just Go With It" with Adam Sandler, it is the playground in the movie they called "McFunnigans." Vinny just loves it. Last time I took him, Tiana was still a newborn, but this time she was able to get out and play, and she really loved it too. At one point, I somehow ended up sort of chilling in a corner of a playcube two stories off the ground watching Tiana go in and around these giant rolling things. It was fun. It reminded me of playing at Discovery Zone as a kid, which was one of my absolute favorite places when I was 8 years old.
On the way home, we stopped at the Oak Park splash pad so Vinny could play for a bit. It is right down the street from Bright Child, so I figured we might as well. As we were pulling in, there was a huge rattlesnake crossing the road. Some guy stopped me from pulling in, or else I totally would have run it over. There was a group of people just frozen, staring at it, waiting for it to continue crossing the road and going on its merry way. I am glad he stopped me. I don't know that it would have died right away, and it might have panicked and attacked one of the people. It was a woman with some children, the guy, and another lady with a pug (whom she was incidentally holding up so high he was practically over her head). But this was the first time I have ever seen a rattlesnake, so it was a little exciting, at least for me from the safety of my car.
Vinny didn't last too long at the splash pad since it was not the hottest day. We made it back in time for me to hit the gym, which was wonderful for him, because he got to play on the outside playground for the first time. It is really big and looks really fun, but Vinny has never been allowed to play on it before, because it is for kids 5 and up. He had a really fun time.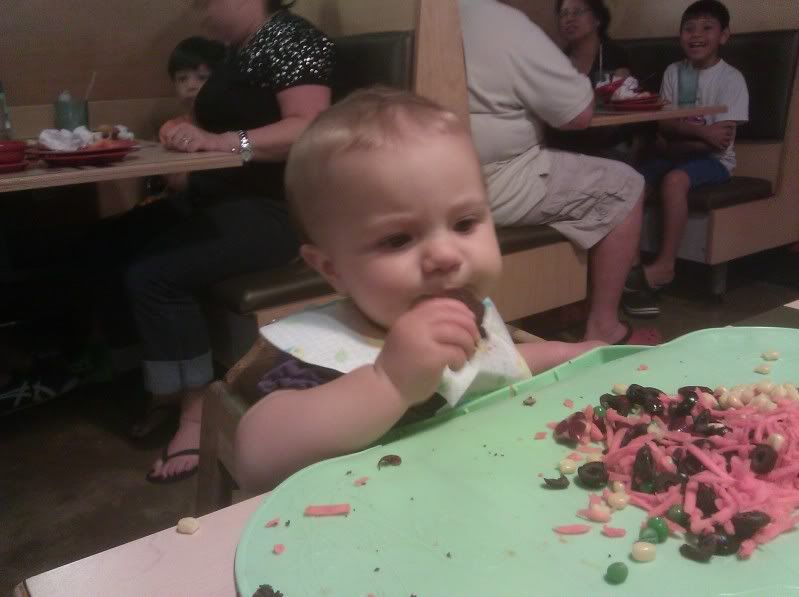 For dinner that night, we met up with daddy at Tiana's favorite restaurant. Yes, I did say Tiana's favorite restaurant. Tiana loves Souplantation. Seriously, not kidding at all. As soon as we walked in, she knew where we were and got all excited and started clapping. While we were going through line, she kept diving out of my arms to eat foods as I was grabbing them for her. Her favorites include olives, kidney and garbanzo beans, peas, carrots, and corn. She seriously ate about half a cup of sliced black olives. I hate olives, so I find watching her eat handfuls of them sort of revolting, but she was gleeful the entire time we were there, and she is never in that good of a mood in the evenings.
Yesterday, Marc took me out on a date, which he planned himself. This is one of my favorite things about Marc, which I am starting to realize I am really lucky to have. He does actually still enjoy getting out with me, knows what I like, and plans fun dates without much input from me. Sometimes I suggest places I want to go, but there is something really nice about when your husband does all of the leg work, from getting the babysitter to making the reservations. He is creative too. Our very first date ever, when we were not actually dating but just friends getting the feel for possibly dating, was to Golf and Stuff and then a walk on the beach. The next date we attempted to learn to surf together (we were unsuccessful).
Since we have been married, he has surprised me with dates like tickets to plays at the local cultural arts center, Aloha Steakhouse on the beach in Ventura (I was 9 months pregnant with Vinny and miserable at the time, but it was fun), a weekend in Coronado including a gondola ride with champagne and strawberries, dinner at Duke's on the beach in Malibu (that one was one of my favorites), a comedy night at a Polynesian restaurant, fine dining at a tiny place owned by a guy who used to be the private chef to the president of France, dinner at Cafe Firenze (a restaurant owned by a Top Chef contestant), and recently, Fogo de Chao (a churascuria that I went to on a work trip and had been bragging about). Yeah, it is pretty much all food. Despite being somewhat picky, I am kind of a foodie. There is nothing I appreciate more than an amazingly prepared meal. I appreciate people who can cook better than I can. Last night, he made reservations at The Melting Pot, which I have always wanted to try. It lived up to the hype. In fact, it sort of exceeded my expectations.
Perhaps the best part of last night was the fact that Marc super scored on the babysitter by getting on of the other site directors from his work to babysit (Marc is a site director at a day camp). He frequently asks his co-workers to babysit, and we have never fully recovered from the loss of our favorite one, Tina, who moved to Asia to do missionary work. I may have a new favorite in Shaina. Although she is the site director of one of the sites here in town, she really should be a preschool director, as that is her passion and her gift. I can see why. We let Vinny set up a "campsite" out back yesterday, and she played with Vinny and Tiana in it until practically dark, and then she was an awesome sport and played VBS with him for hours, listening to the theme song about 12 times. She even dragged his tent in his room after dark for continued hours of play. She must have really worn him out, because he is still asleep and it is almost 9:00a.m.!
She is amazing. If you are ever looking for an incredible babysitter (for nights and weekends only though), I am happy to pass on her information, but I don't know how free she is. My husband's company does keep them all pretty darn busy. Today, Marc is driving a bus full of students to summer camp up in Central California. At least he loves his job. :-)
In other news... I have implemented a one week tv ban for Vinny. I am not anti-tv at all, but Vinny has been starting to demonstrate addictive behaviors. I am not exaggerating. It all started when he learned to use the remotes a couple of months ago. Now, he plans his television watching way in advance, and sometimes, when we are out, he begs to go home so he can watch tv. If I tell him he can't, he just melts down and will not calm down until I promise him when he can watch it next. When he did this yesterday afternoon because I wanted him to enjoy the beautiful Saturday afternoon instead of watching a movie, I'd had enough. I will not raise a couch potato who sits in doors watching a movie on a sunny summer day instead of playing outside and using his imagination. So, I have banned him from watching tv for a week. I figure that should be enough to break the habit. Now I will have to figure out some healthy guidelines for once the ban is over.