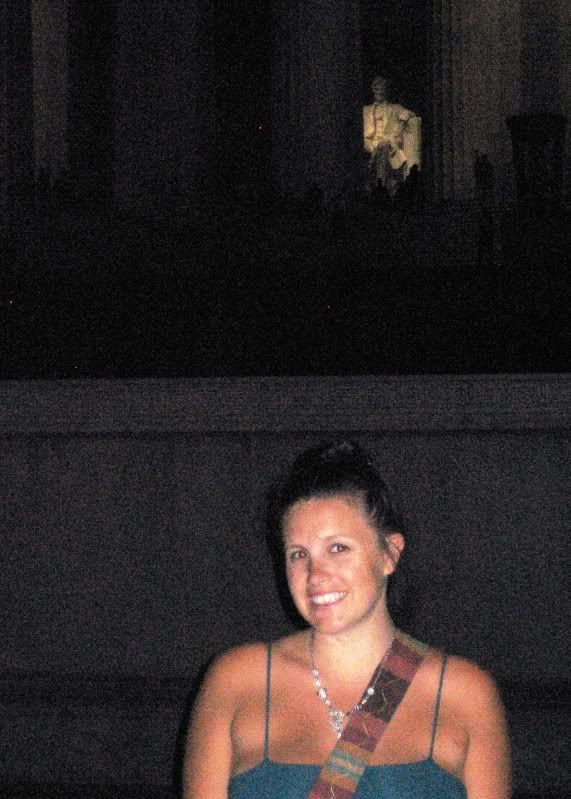 I am in Washington D.C. with some colleagues for an international education conference. My friend and colleague, Alicia, and I went out last night and tonight after the sessions ended, to see the town. I have been here before, but I had never seen the monuments or anything at night, so I thought it would be fun. Last night, the conference ended at 9:00, so heading out then was a big late, but it was only 6:00 in our bodies, so what else were we going to do?
Our hotel must have been a better deal for the conference than the one we were at last year, because, while very nice, it is rather far away from the downtown area. It is in Rockville, Md. It took us about 30 minutes by subway to get to downtown where we wanted to go, still we managed the subway transfers and whatnot and made it to the Washington Monument. From there, we figured, might as well walk to the Lincoln Memorial... I mean, it's right there (actually, it is about a mile, but it looks
so
close), and on the way, we had to stop at the World War II Memorial, and it was all amazing. It was actually the perfect time to go see it all, as it was not terribly hot (still hot, but not disgustingly) and there weren't a ton of crowds (still some people, but not bad). At 11:50 p.m., standing on the steps of the Lincoln Memorial, realizing we were so tired and our feet had blisters, we remembered that the Metro Center subway station closes at midnight. With the urgency of two cinderellas about to have their carriage turned back to a pumpkin, we quickly hailed a cab and got a ride to the station, where we could hop on the red line back to the hotel. At 11:57p.m., as we paid the cabbie, scurried down the escalator and through the gate, we were so very proud of our metropolitan selves.
At 12:02 a.m., I even posted "
Feeling very good about manuevering subways and taxis," on my Twitter account.
What is the expression? Pride cometh before the fall?
At Metro Center, there are several different lines that converge. We knew we had to get on the red line, and we got on the red line. Only a moment after the train sped out of the station, we looked at the sign at the first stop and realized that it was not one we had seen on the way there. Uh, what? We got out the map (yeah, we totally should have gotten it out before getting on the subway, I know, but we were so sure of where we were going at the time) and realized we were on the right train, going the wrong direction, and it does not make a circle. We start discussing our options, thinking that getting towards the end of the line on this end might be best, because at least it seems to end up in Maryland, even if it is the wrong end, but we consult with the woman behind us, who lives there, and she says we should get off on the next stop and talk to the station manager and make sure we get immediately on the next train headed the right direction. Alicia and I had really thought we'd made it on the last train, but hey, maybe not, so we took her advice and got off on the very next stop. When the station manager saw us, he was about to lock up and looked at us like we were the two most foreign people we'd ever seen. He was very much American, but well, I guess we looked out of place. We explained that we'd got on the wrong train, and he pretty much got us some taxi numbers, ushered us out the gate, locked it, and took off. As we called taxi companies (all of which, except one, were closed) and looked around, we realized we really, really got off in a bad neighborhood. Finally, a cab driver comes to pick us up. He turns out to be the world's most reluctant, unknowledgeable taxi driver ever, who apparently had never even heard of Rockville, let alone been there. Still, two phone calls to the hotel and an unexpected tour of Embassy Row and Georgetown later, we arrived at the hotel at 1:52 a.m., practically kissing the ground beneath us in joy.
Nonetheless, it was a great time, and well, a great story.