After an approximately 36 hour stay at home (for me), we headed out on a family vacation to Northern California. Marc has family in Sacramento, and we have enjoyed staying with them from time to time for a cheap vacation. This time, we hit up the California State Fair and Lake Tahoe.
The state fair was fun, but well... hot. It was just too hot. Sacramento in the summer is really hot and we also happened to go on a really hot day. It is also an asphalt jungle, which doesn't make it much better. This year's highlight was the fact that they had the rides acquired from the Michael Jackson Neverland Ranch.
There was also a neat dinosaur exhibit that Vinny liked, but from a distance. He found them very frightening. Vinny was the only one who didn't seem just paralyzed by the heat, as he kept saying. "More rides, more rides!" Fortunately, the highlight of the whole trip for him was probably Carl and Linda's beautiful pool and "his" playground (their boys' old playground that they had cleaned up for Vinny); he was in heaven. Following the state fair, heading back to the house to swim was well, a necessity.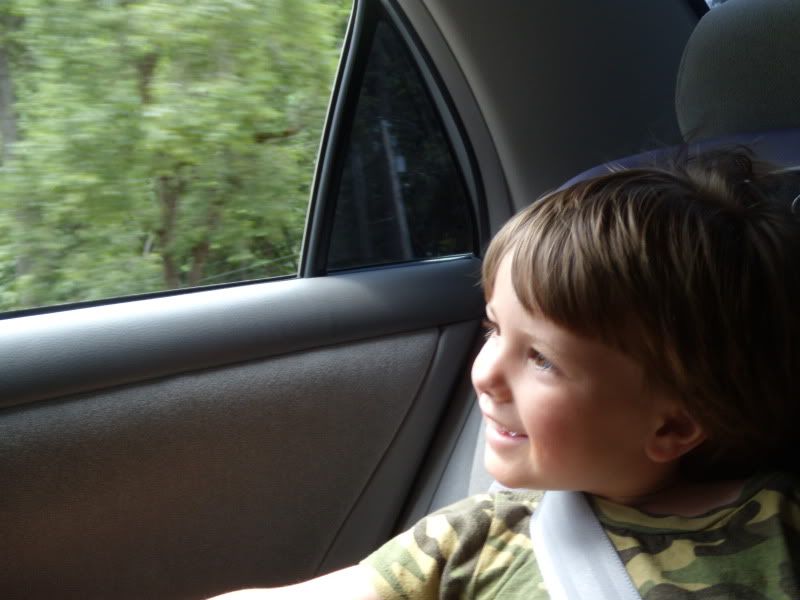 Friday, Marc, Vinny, and I took a day trip to Tahoe. It was wonderful. Best part of the trip. It is about a 2 hour drive, but it is such a nice drive, the drive is half the fun. Vinny and I loved rolling our windows down and enjoying the beautiful mountain air and scenery as we drove along the South Fork of the American River.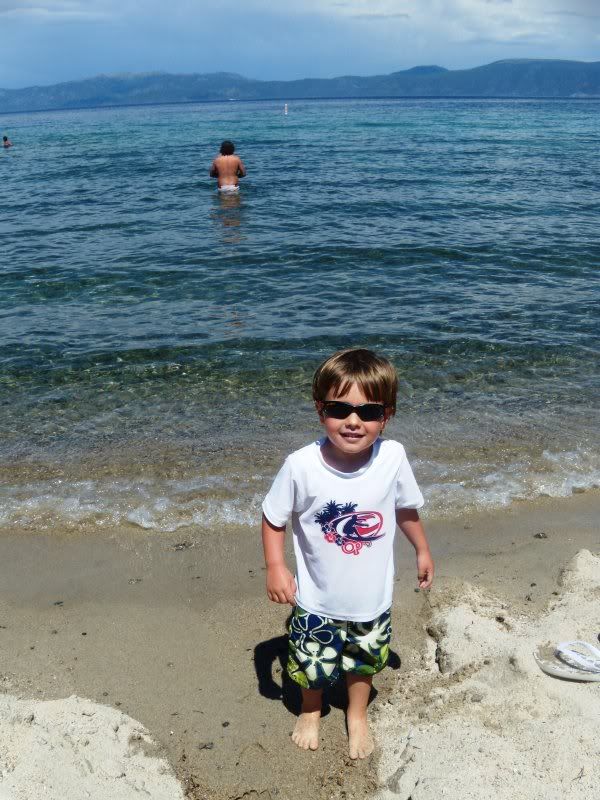 Tahoe is just so beautiful (and not to mention, a good 20 degrees cooler than Sacramento). We would like to plan a camping trip there next summer. We ate lunch and spent a few hours swimming at an out-of-the-way (so not at all crowded) but beautiful beach at Meeks Bay.
Then we took an unconventional approach to experiencing Eagle Falls. I had seen beautiful pictures of it, so we stopped at the Emerald Bay ranger station to find out how to get to it and were told it was a 1.5 mile hike, steep uphill in one direction, to the base of the falls. I didn't think I could do that, especially not in flip flops, so we pulled off the road near the trailhead to the top of the falls and hiked down a little ways to a stream that is, from what I could tell, kind of a part of the falls, and it turned out to be our favorite part of the trip. We wished that we had planned to eat lunch and spend the day there. It was just like a little piece of heaven.
Saturday was a day of shopping for the girls, the train museum for the boys, and then we saw a movie, and spent some more time swimming in the pool. This morning, it was time to pack up and head back to Simi Valley, where I have to admit, the 97 degree temps are a bit of a relief.
:-)